A little about
Pittsburg
The Pittsburg area is comprised of Arma, Cherokee, Franklin, Frontenac and Pittsburg, located in the southeast corner of Kansas. Often considered the "Gateway to the Ozarks," thanks to our landscape of rolling prairie and filled with beautiful trees that change color with each season, the Pittsburg area enjoys a mild, four-season climate. Perhaps one of the greatest attributes of the Pittsburg area is its close proximity to several of the country's booming trade areas, including Kansas City, Tulsa, Wichita and Springfield, Missouri. These and many other cultural and shopping destinations are easily within a 1 hour 45 minute drive from the Pittsburg area.
The history of
Pittsburg
On October 23, 1864, a wagon train of refugees had come from Fort Smith, Arkansas, and was escorted by troops from the 6th Kansas Cavalry under the command of Col. William Campbell. These were local men from Cherokee, Crawford, and Bourbon Counties. Their enlistment was over, and they were on their way to Fort Leavenworth to be dismissed from service. They ran into the 1st Indian Brigade led by Maj. Andrew Jackson Piercy. They continued to the north when a small group of wagons broke away in an unsuccessful rush to safety. The Confederate troops caught up with them and burned the wagons. The death toll was three Union soldiers and 13 civilian men who had been with the wagon train. It was likely that one of the Confederates had also been killed. A granite marker memorial for the "Cow Creek Skirmish" was placed near the Crawford County Historical Museum on October 30, 2011. It was founded on May 20, 1876, and was originally named Iowa City.
Contact
Information
Address:
117 W 4th St
Pittsburg, Kansas
66762
Businesses in
Pittsburg, Kansas
Here is a collection of local Pittsburg, Kansas businesses. Clicking on the thumbnail image, or the blue "View Member" will take you to that businesses page. We've included some jump links so that you can easily navigate to different categories of businesses. Those, can be found directly below as icons. Or, there is a list of categories in the menu bar.
Himmel House Bed and Breakfast
Lodging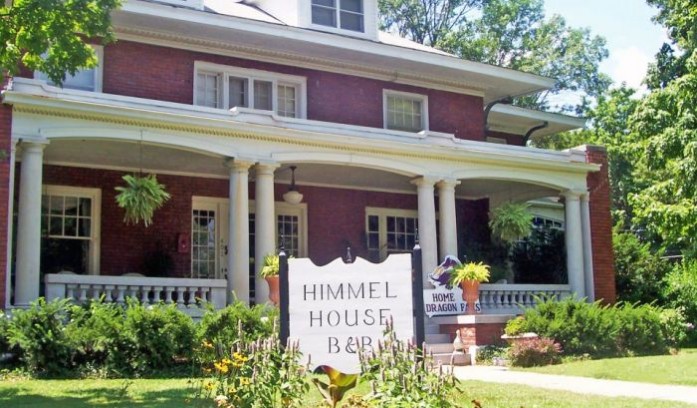 Located in the historic southwest section of Pittsburg.