A little about
Manhattan
Guns & Gear Magazine named Tuttle Creek and Milford Lake one of the top five hot spots in the nation to hunt whitetail deer. Men's Journal magazine, Manhattan was named one of "The 50 Best Places to Live." Eight miles west of Manhattan on K-18 is America's Army - Fort Riley. Founded in 1852, Fort Riley Army Post was originally established to protect settlers on the Oregon and Santa Fe Trails. Fort Riley is home to brigades of the 1st Infantry Division (Mechanized), the 1st Armored Division and the 937th Engineer Groups (Combat). The reservation covers more than 101,000 acres, spanning both Riley and Geary counties. Colbert Hills Golf Course is a PGA licensed collegiate facility featuring 18 holes of Flint Hills landscaping highlighted by native Kansas limestone and vistas up to 12 miles.
The history of
Manhattan
In 1855, settlers ran aground in a steamboat as they traveled up the Kansas River. New York investors insisted the settlers call their new community "Manhattan." With Manhattan, New York, known as the "Big Apple," it was natural for Manhattan, Kansas to become known as The Little Apple®. We began using the tag "The Little Apple®" in 1977, and the rest is history! Bluemont College, the forerunner of Kansas State University, opened its doors in 1859. In 1862, Congress granted Kansas 90,000 acres to establish an agricultural college. The next year, Kansas State University became the nation's first land grant university. Today K-State is home to over 22,000 students, nine colleges, and is a leader in bio-security research.
Contact
Information
Address:
501 Poyntz Ave
Manhattan, Kansas
66502
Businesses in
Manhattan, Kansas
Here is a collection of local Manhattan, Kansas businesses. Clicking on the thumbnail image, or the blue "View Member" will take you to that businesses page. We've included some jump links so that you can easily navigate to different categories of businesses. Those, can be found directly below as icons. Or, there is a list of categories in the menu bar.
Little Apple Brewing Company
Restaurants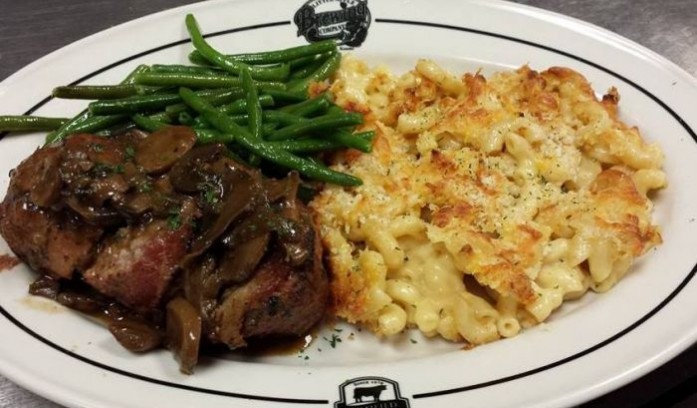 Great certified angus beef steak and fine, hand-crafted ales.