A little about
Cottonwood Falls
We are surrounded by the federally protected Tallgrass Prairie National Preserve and the beautiful Flint Hills. Cottonwood Falls is home to a mix of visitors and residents that either live off the land or come here to be revived in its majestic presence. Artists, ranchers, cowboys and classical music all find a home here. Visit our friendly community in the midst of one of natures true wonders.
The history of
Cottonwood Falls
For many millennia, the Great Plains of North America was inhabited by nomadic Native Americans. In 1803, most of the land for modern day Kansas was acquired by the United States from France as part of the 828,000 square mile Louisiana Purchase for 2.83 cents per acre. The first settlement in the area of Cottonwood Falls was in 1854, when an Indian trader named Seth Hayes founded a cattle ranch on the Cottonwood River close to the mouth of Diamond Spring Creek. The area around the town was organized as Chase County in 1859, and Cottonwood Falls was designated the temporary county seat. Other early settlers arrived in Cottonwood and surrounding lands in 1856 to 1858. The first post office in Cottonwood Falls was established in 1858. Through the late 19th and early 20th centuries the area around the city was mainly divided into farms and cattle ranches.
Contact
Information
Address:
318 Broadway St.
Cottonwood Falls, Kansas
66845
Businesses in
Cottonwood Falls, Kansas
Here is a collection of local Cottonwood Falls, Kansas businesses. Clicking on the thumbnail image, or the blue "View Member" will take you to that businesses page. We've included some jump links so that you can easily navigate to different categories of businesses. Those, can be found directly below as icons. Or, there is a list of categories in the menu bar.
Cottonwood Falls Collectables & Antiques
Shopping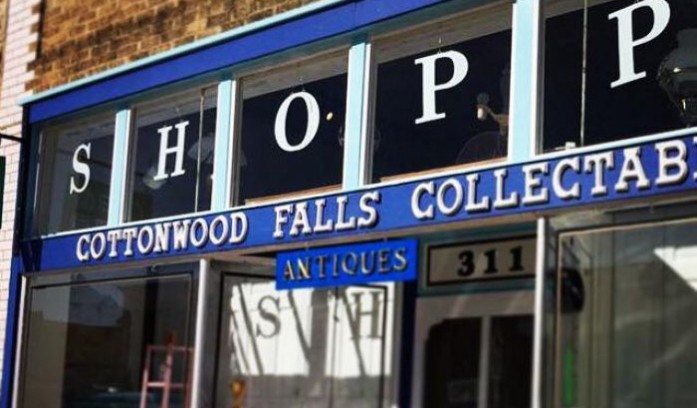 Antiques, Vintage, Art, Upcycled and Handmade